History of LCS
LCS provides training and community engagement for youth and adults of varying abilities to enhance their self-esteem and quality of life.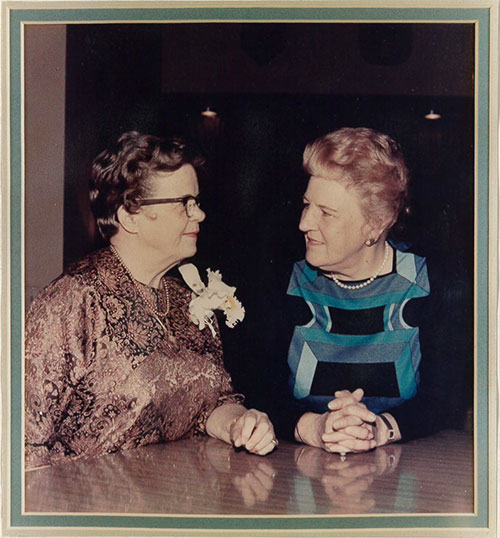 Katherine Batten, founder and first Executive Director of Curative Workshop of Racine, with Meg Gleave, the first Vocational Director.
LCS began its existence as Curative Workshop of Racine in 1949. Once located on Northwestern Avenue, the organization started with a partnership between Mrs. John H. (Katie) Batten and the Junior League of Racine. LCS began providing outpatient therapeutic services in 1951 by offering occupational, physical, and speech therapy services to the Racine community.
Through the years, LCS evolved into providing various other vocational service options to the Racine and outlying communities. The Therapeutic Services Division transferred to All Saints Medical Center in 1995. When LCS moved into its current location on Lincolnwood Court, the organization's name changed to Lakeside Curative Services. While Lakeside Curative Services is still the agency's full legal name, since 2015, its initials - LCS - have been used to brand the organization. Today, LCS offers individuals with disabilities community-focused employment and community-centered engagement opportunities. LCS believes that "potential is limitless" and, through its services, promotes equal opportunities in the community for all the people it serves.